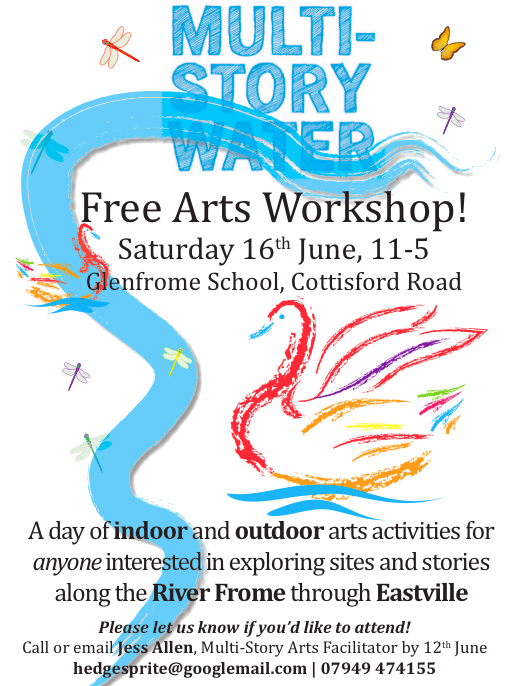 The Multi-Story Water arts process officially set sail last month (it's taken a while for this story to float downstream onto the blog!) with the first workshop at Glenfrome School on Saturday 16th June. A big thank you to everyone who came along and shared their enthusiasm for all things riparian.
Using a heady mix of scrapstore delights, scissors, glue and that other great universal adhesive (imagination not Pritt-Stick), each group created their own artistic representation of the Frome-in-the-Room. Rivers sprung over and under tables, which became topographical features, weirs and waterfalls, or concrete bridges to carry busy motorways. Water flowed into and out of tunnels, whirlpools spun mercilessly, canoeists dropped off the edge of the falls, trees sprung up – and fell down – while, in peaceful stretches amongst the lush vegetation, kingfishers perched and wildlife calmly flourished. It was clear that the river was very present in the creative imagination of the residents of Eastville.
After an indoor picnic lunch, the school gym floor became a boat-building yard and driftwood sticks (collected by me from Aberystwyth beach, the day after the flash floods there on June 9/10th), seaweed, willow from a Fromeside tree in Eastville Park, leaves, and raffia were used to create rafts, boats and crafts to be floated down the Frome.
Using a shopping trolley (one that we'd captured after it had gone feral in the Napier Road underpass) that was speedily converted into a pirate ship (thanks to the genius of Read and Kath), we transported the miniature boats down to the park. It was a soggy crew of rain-coated pirates who processed through the rain behind it, but all the boats proved river-worthy and floated off downstream, though the willows near Stapleton Bridge may have proved too difficult a bankside obstacle to navigate.
We ended the day – courtesy of Chrissy and Justin (thank you!) – with a sneak peak at the Frome as it runs between Cottrell and Heath Roads. Kath told us it was like a 'Heathrow airport' for kingfishers earlier in the summer. But they didn't get their raincoats on to give us a display. But maybe, just maybe they will be making a special guest appearance later on in the project…. (guesses on the back of a postcard)
A huge thank you to all who attended and especially to Mrs O'Callaghan and Glenfrome School for providing a fantastic venue.
Please keep watching this space for the next events in the autumn, and and please feel free to keep adding suggestions or ideas for other river-related arts and performance workshops you might like to take part in or lead, as we progress towards our final celebratory weekend on 29-30 September.
In the following images, you should be able to find, creative culverts, the M32, freshwater crabs, canoes, rafts, desert islands, great crested newts, waterfalls, whirlpools and water snakes, stick-boats with leaf sails, a pirate ship shopping trolley and a boat launch…
with thanks to Chrissy and Steve for the additional photos…