Multi-Story Water is an interactive project taking place in the Eastville area during 2012. The idea is to involve local people in a creative conversation about the river and our relationship with it – using storytelling, games, performance, walking tours, or whatever else seems appropriate.
Our final performance weekend – the culmination of a series of events that took place over the summer including narrative collection, art and performance workshops – was held from 29th – 30th September. Please see our Gallery pages for a pictorial round-up of all the events. Our Events page gives a full schedule of the activities that took place. The project is continuing to work with Glenfrome School during the autumn term and there will be a sharing of the work that is produced later this year – watch this space for more details!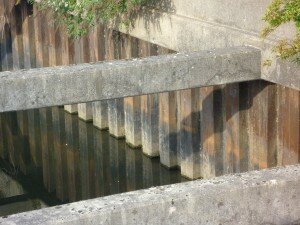 The River Frome has many stories to tell. As it flows through Eastville, it runs past homes and businesses, a school, under the motorway, and finally through sluice gates – where it disappears underground on its way to the city centre. The river connects different parts of the community, but do you feel connected to it?
Multi-Story Water is both a research project and a creative celebration:
We want to understand how you feel about the place you live in, when you stop and look around. What's good about it, and what could be better? We want, especially, to hear your ideas about the local river – and about particular stories or memories that you and your family or friends associate with it. Even if you don't feel connected to the river at all, we'd like to hear about why you think that is.
Your ideas and stories will become the starting point for creating special events about your area, for your area, in your area. We invite you, and your families and neighbours, to help make this happen! It doesn't matter if you don't have any previous creative experience – the idea is to pitch in and enjoy yourself.
We aim to create a festival of related events that link up along and around the route of the Frome through Eastville. These might occur in all kinds of unexpected places! Let's make a living map that celebrates what this place is, what it has been, and what it could be!
Please feel free to get in touch with us by email: multi-story@live.co.uk